Saltash based Cornwall Councillor Martin Worth and staff from Tamar Crossings have worked together to make changes to the Saltash entrance of the Tamar Bridge south cantilever cycle and foot path following concerns from local resident and mobility scooter user Mary Marnell.
Miss Marnell, who lives in Saltash, makes frequent visits to St Budeaux which means she needs to cross the Tamar Bridge. Having experienced some access problems during last year's resurfacing works, Mary was looking forward to being able to drive her mobility scooter across the South Cantilever once it was re-opened to pedestrians and cyclists.
Unfortunately for Mary the planned works did not include any changes to the existing staggered cycling hoops installed as a safety measure when the bridge was widened 20 years ago to prevent cyclists from riding from the cycle path straight onto the road.
It has always been difficult to manoeuvre my scooters through the cycle hoops" explained Mary. "It usually meant I had to reverse into the bushes at the entrance to the lane and then move back and forwards a number of times to get through. Not only did this cause scratches on the paintwork, it often led to key parts being broken off the vehicles.
Mary Marnell - Saltash Resident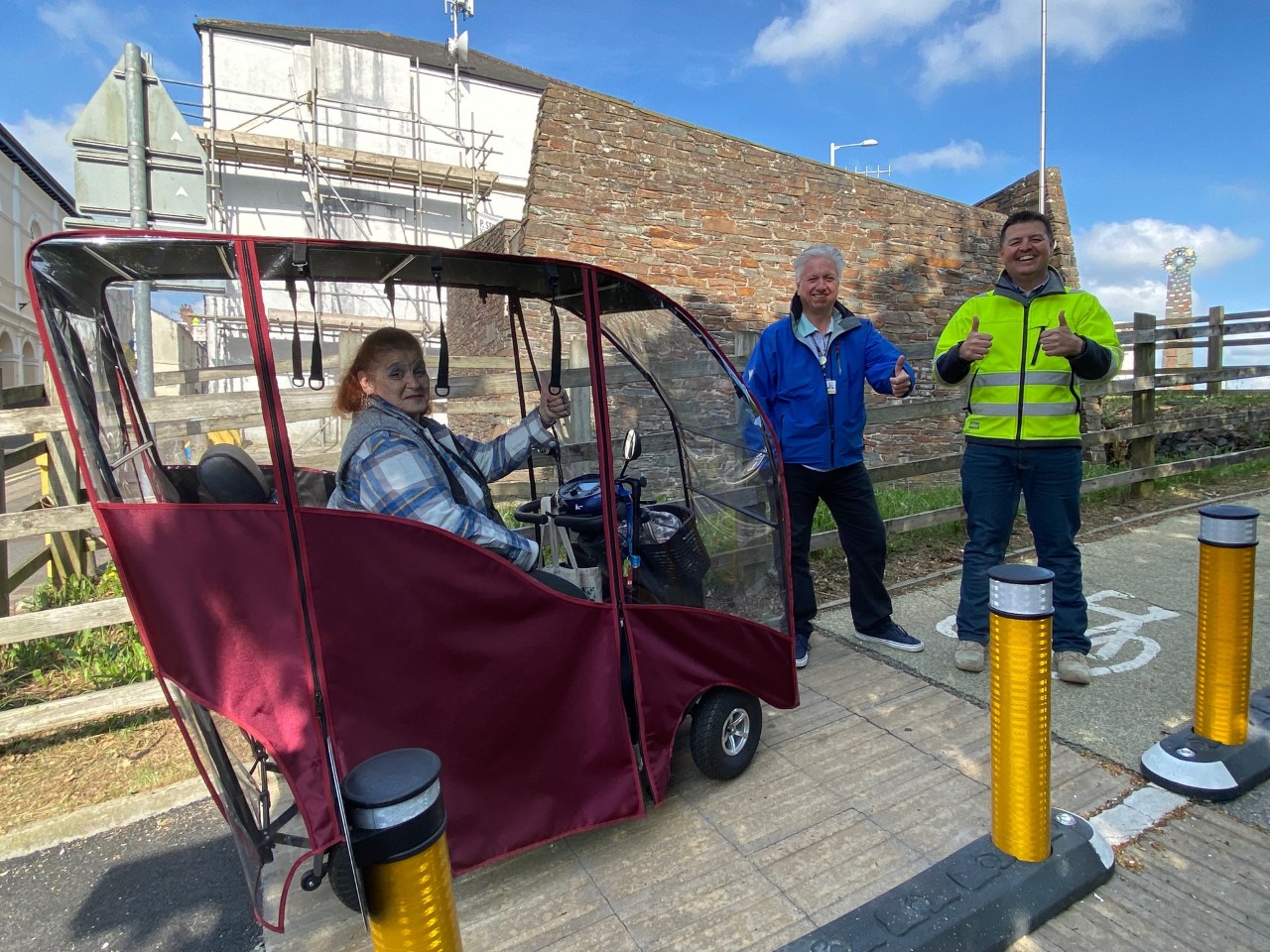 Having recently bought a brand-new mobility scooter, which was larger than her previous vehicle, Mary was determined not to let it be damaged and contacted Councillor Worth to ask for something to be done.
Councillor Worth, who is also Joint Chair of the Tamar Bridge and Torpoint Ferry Joint Committee, was attending a concert by the Tamar Valley Male Voice Choir in aid of the Ukraine at the town's Methodist Hall when Mary approached him during the interval.
It ended up with us leaving the building and going down to where her mobility scooter was parked so she could show me the issue face to face before the start of the second half. I could immediately see the problem and promised to sort something out.
Councillor Worth, Joint Chair of the Tamar Bridge and Torpoint Ferry Joint Committee
A phone call to Tamar Crossings led to Engineering Manager Richard Cole taking up the issue.
Having spoken to Mary and checked with Tamar Mobility about the size of the scooter, Richard arranged for the cycle hoops to be removed and replaced with an island in the middle of the path separating the pedestrians and cyclists, and improving access for all users.
They have done a fantastic job. The new layout means I can now use the lane without damaging my scooter. I was only expecting them to relocate one of the cycle hoops to provide more room, so for them to install a complete new layout is great and I am very pleased.
Mary Marnell - Saltash Resident
I am delighted that we have been able to make it easier for Mary and other people with disabilities to cross the bridge. I would like to thank Richard and his team for acting so quickly in response to my request and going the extra mile to provide a new layout.
Councillor Worth, Joint Chair of the Tamar Bridge and Torpoint Ferry Joint Committee